European Solidarity Corps
THE CALL FOR THE NEXT VOLUNTARY SERVICE PROJECT AT STROMBOLI HAS STARTED
Period for the next voluntary service: Expected start on 18th September 2023 until 31st July 2024Application Deadline: 2nd July 2023
Find out more about this project in the Stromboli info pack.
Please read it closely. If you are interested, please send your CV and this application form to Kulturlabor Stromboli
General Information
Kulturlabor Stromboli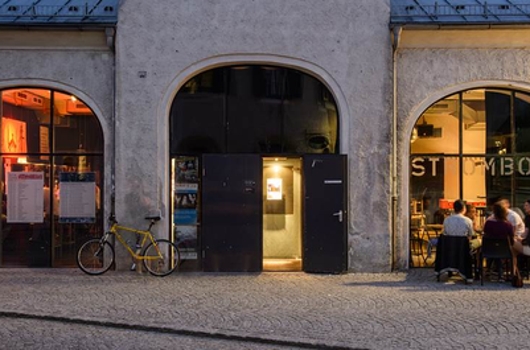 The Kulturlabor Stromboli is a cultural venue in Hall in Tirol, a small town situated near to Innsbruck. The venue was established in 1989 by an active youth group with the aim to connect local artists and to promote cultural events in the region. Nowdays, with more than 150 events over the year, Stromboli is still one of the most diverse culture and creative hubs in this area and is well known throughout Austria. At a regional level the Kulturlabor Stromboli works as a local artistic platform. Thanks to a rich variety of program, guests are able to choose from concerts, parties, theatre through cabarets, literature readings and other specials, like open air events. For families it offers very popular children´s program on a regular basis. Beside, we run a bar, which has grown in reputation over the years and it became a base camp for a thriving youth scene.
Hall in Tirol
Hall is a small town with around 13,500 inhabitants and it lays in the middle of the Inn valley around 10km East of the main city in Tyrol, Innsbruck. Thanks to its location, Hall is a favourite destination for visitors coming from all around the world, both in summer and winter alike. The old beautiful tasteful architecture in the old town of Hall give you a glimpse of the importance of Hall throughout the history of Austria. Going right back to the middle ages, Hall was one of the most important economic centres in North Tyrol through the trade of Salt. Today Hall is a pulsing small town, which streets are filled with small shops, cafes and bars and since 2002 it also became a university town. Surrounded by beautiful mountains, Hall offers a wide range of free time activities from sports and nature as well as cultural highlights in which Kulturlabor Stromboli plays a large role. For an even broader range of activities Innsbruck is very quickly and easily accessible with public transport in almost 20 mins.
Project description
Our ESC volunteers are involved in almost all the processes related to everyday operations of our independent cultural venue. They work in the Stromboli-office, deal with reservations, social media, public relations, they distribute posters, prepare the guest room or the catering for artists, record videos and fotos from our events, help us at the coffee-bar and even more. Other activities depends on mutual discussion and on the individual preferences, background and profile of the volunteer. He/she can develop their own activity which makes sense and fits with our programme. During 10 months spent in our organisation, the volunteer can gain unique experience in the independent cultural field. We are always looking for a person who actively bring herself into all activities from our institution.
Bringing new ideas on the board is the motto of the organisation. We expect that the art and culture is volunteer's passion and previous experiences are very welcome but not completely necessary. The will to learn new things and help with ongoing activities is obligatory. We believe that this cultural exchange will bring new cultural adventures to our centre, so don't hesitate to join us. Stromboli is a real bubbling cultural volcano situated in the middle of the Alps!! If you are intereseted to become the next volunteer from Kulturlabor Stromboli, please send your application.
---
Our volunteers

Lauréane (Frankreich)
September 2022 – Juli 2023
Hello! I am Lauréane and I am from the french alps. I am spending 11 months in Stromboli! I just finished my Social and Human Sciences degree and this European Solidarity Corps is my first long experience abroad! The amazing variety of events, the welcoming and good atmosphere and the open-mindness of the Stromboli team make this organisation the perfect place for me. I am meeting many different artists from Tirol but also from whole Europe. I would not ask for more to know about the cultural world and the Tyrolean culture! It's a real pleasure to help this place to develop, bringing people together around culture! In the middle of these beautiful Alps, you will quickly find Stromboli, a place where everyone is smiling broadly!

Klaudyna (Poland 2020)
Sept 2021-July 2022
Hello! My name is Klaudyna and I am from Poland, Poznań.
I am a graduate student of culture studies at the Adam Mickiewicz University in Poznań. It is an academic field that is developing all of my interests: art, philosophy, psychology, anthropology, sociology and society development. I consider this project "Open Culture Hall" as an exquisite opportunity to develop my interest and improve my German language. In Kulturlabor Stromboli I have faced a very friendly and open-minded team that is creating amazing events. I cannot wait to learn more about organization skills and the Austrian style of living. I am so happy to be here because I am surrounded by breathtaking landscapes and kind people. I believe at the end of the project we might be one Stromboli family and leaving this place will not be easy.

Alexandre Barreiro Piñeiro (Spain 2020)
Sept 2020-July 2021
Hello! My name is Alexandre Barreiro Piñeiro and I was born on 21 March 1995. I come from Galicia/Spain, where the end of the world is. Historically Cape Finisterre (=end of the world) in Galicia was considered the western end of the world.
After I had finished my training as a social worker, I decided to apply for an internship at Kulturlabor Stromboli with the European Solidarity Corps. I was lucky and now I work as a volunteer in this place. I couldn't have found a better place for me, because here I have everything I need: a small cultural world and great concerts. But unfortunately Covid came in between. I am sure that the Stromboli team will continue to be active despite the restrictions imposed by Covid.
I am grateful that there are cultural centres like the Kulturlabor Stromboli and people like those who work there and that young people can learn and grow personally and professionally in this place. And I am very happy that I can get to know the culture and the people from Tyrol. My wish is that everyone will have fond memories of me when I travel back to the end of the world in july 2021.

Camille (France)
Sept 2019 to July 2020
Hallo everyone ! I´m Camille, coming directly from France. Like many of you, I´ve always wanted to live abroad in order to experience new things and meet new people. For me, Stromboli is definitely the best place to do it: I´ve been in the musical field for some years now so I was very attracted by the project. And what a joy! Everything is even better than expected: concerts, readings, theater… a great diversity of events within a place with such a welcoming and outstanding team. I´ve met such big-hearted people, worked in an exciting environment and I´ve always felt exactly where I should be. Tyrolean culture, food and landscapes are the icing on the cake. Danke für alles!

Snehiddy Karina Maldonado Martinez (Spain)
March 2019 to July 2019
This is Snehiddy Karina, from Galicia-spain, and a traveler soul. Since many years ago I have wanted to join the European program for voluntaring, and in December I got the chance to join this charming, interesting and exciting organisation. I spent one of the best experiences of my life in Stromboli, in Hall in Tirol. Become a community and be part of them it's the first aim. For sure I will come back, because home is home, and the strombolians people are my family and home. Thank you for this beautiful opportunity.

Meis (Spain)
Sept. 2018 to March 2019
Hi! I'm Meis and I come from Galiza, Spain. After searching among many projects for some time, I found Stromboli to be the perfect place to do my EVS. I've always been into cultural scene, and specially music. So the opportunity of working in a cultural venue like this is priceless for me. The great variety of events; from music concerts to children theater or literature readings; creates the perfect atmosphere, the perfect boiling pot for creativity to arise. This, together with the Stromboli team members and its usual guests, all of them helpful, welcoming and friendly, makes of this place the perfect spot to have an outstanding voluntary experience.

Juliana (Slovakia)
Sept. 2017 to Juli 2018
Hi, everyone! I am 24 years old open-minded student of arts management. After great experience from my abroad study exchange I have decided for EVS. I have browsed databases and collected information about available EVS options for couple of month and then I decided for Kulturlabor Stromboli as a perfect place for me. Why? I find Stromboli as a unique place, where creativity mixed with enthusiasm and it has got an important role in the country, not just for local community. Lot of valuable friendships and contacts can be made here, so whole experience can help me to expand cultural network and gain new load of inspiration for projects. Even better, that it can come directly with possibility to realize them. Beside, Kulturlabor Stromboli provides space to create positive social changes and the whole experience can enrich me as a person and also as a future professional in culture sector… plus, improvement of my German language skills is priceless.

António (Portugal)
Sept. 2016 to Juli 2017
Olá! My name is Antonio and I come from Portugal. I was an EVS volunteer in Stromboli during years 2016/2017. Thanks to this project I have meet lots of amazing people, went to great shows and concerts, and learned and experienced the Tyrolean culture. Big thanks to all members of Stromboli team and guests. who always made me feel welcomed! Oachkatzlschwiederschauen!